This recipe puts an upscale and modern twist on an old favorite.  Don't expect bread crumbs and ketchup, this roulade style loaf is held together by a veal and cream mousse and slow cooking in a perfectly controlled water bath.  Try serving this with my caramelized carrot soup and potato purée!  For more information on Sous Vide cooking, check out my immersion circulator reviews.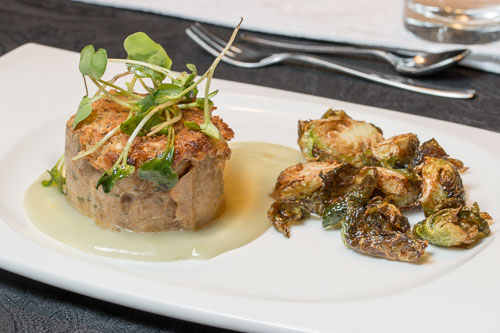 Ingredients – Serves 6
Meatloaf:
Olive Oil
3 anchovies
1 large shallot, finely minced
2 cloves garlic, finely minced
400 g ground beef
200 g ground pork
15 g Kosher salt
10 g chives, minced
15 g Sriracha
Zest of two lemons
10 g mustard powder
200 g ground veal
300 g heavy whipping cream
1 egg
Hazelnut Crust
225 g cold butter, cubed
125 g chopped hazelnuts
125 g fine breadcrumbs
50 g horseradish, finely grated
5 g rosemary, minced
4 g Kosher salt
Preparation
Meatloaf
Heat the olive oil in a small sauté pan and sauté the anchovies, shallot, and one of the garlic cloves until the shallots are translucent and the mixture is fragrant (about 3 minutes).  Allow to cool.
In a large bowl, combine the beef, pork, remaining garlic clove, salt, chives, Sriracha. Lemon zest, and mustard powder.  Mix well with your hands being careful to not over work the mixture.
Place the veal, cream, and egg in a food processor and pulse to form a mousse.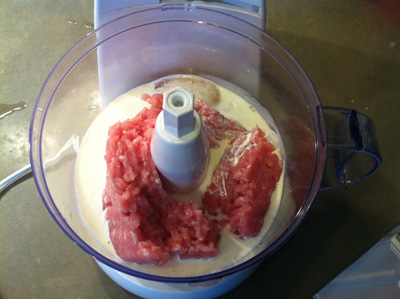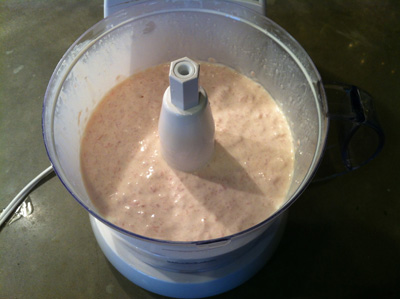 Add the mousse and shallot anchovy mixture to the beef and mix until well combined.  At this point it honestly will look pretty disgusting.  It tastes amazing, I promise.
Lay out two large pieces of plastic wrap on a flat surface and scoop half the mixture along the shorter end of each piece of wrap.
Roll the plastic wrap into a log shape and twist the ends to form a tight roulade.  Freeze the log until hard (about 4 hours).  Repeat with the other log.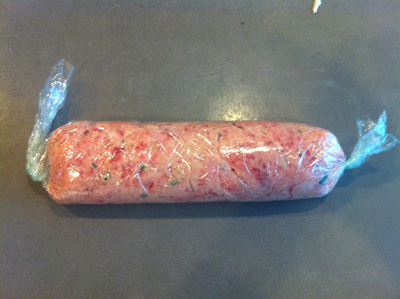 Vacuum seal the wrap.  At this point the meatloaf can be kept frozen for up to three months or thawed and be ready for the final preparations.
Hazelnut Crust
In a food processor, combine all the ingredients and pulse until a cookie dough like consistency is formed.
Press and roll the mixture between two pieces of wax paper until about ¼ inch thick.
Freeze the mixture until hard (about 1 hour).  At this point the crust can be frozen for up to 3 months.  Alternatively, proceed to the next step.
Cut out rounds with the approximate diameter of the meatloaf (around 3 inches) and keep in the refrigerator until the final preparations.
Final Preparations
Preheat a water bath to 145°F with an immersion circulator.
Cook the vacuum sealed meatloaf logs for 2 ½ hours.
When the meatloaf is just about done, preheat an oven to Broil
Slice each meatloaf log into three equal portions for a total of six.
Place the loafs on a baking sheet and top with the hazelnut crusts.
Broil until the crust is golden brown (about 5 minutes)
Garnish with some micro greens and serve (try the caramelized carrot soup or potato purée.