Cooking the short ribs sous vide is similar to a long braise in the oven.  Here, though we are able to keep the temperature at a constant 144°F so the collagen and muscle slowly break down without the meat becoming tough and chewy.  The sous vide bag also keeps all the flavors inside rather than losing them through evaporation.  The ribs will take 48 hours to cook, so plan this dish well in advance.  The good news is once they are done, they can be chilled down quickly in an ice bath and kept in the refrigerator for up to 5 days.  In fact that only enhance the flavor!  If you are doing them ahead, just pop them back in a 144°F water bath for 30 minutes to reach temperature.  Otherwise, start the potatoes when the short ribs are finished cooking and you are ready to start the sauce.
Short Ribs – Serves 6
750 g Red Wine – Ideally Cabernet Sauvignon or Syrah
250 g Ruby Port wine
6 bone in short ribs
Kosher salt
Black pepper
20 g olive oil
250 g onion, diced
200 g carrots, diced
75 g celery, diced
100 g shallots, peeled and cut into quarters
50 g leeks, chopped
1 head of garlic, halved
4 sprigs of thyme
20 g tomato paste
500 g beef stock
1 g xanthan gum
Sweet Potato Puree
1,000 g sweet potato, peeled and cut into large dice
60 g butter
500 g milk
6 g Kosher salt
Black pepper to taste
Fried Shallot Rings
Canola oil for frying
1 large shallot, peeled
Rice flour
salt
Preparation
Short Ribs
Preheat a water bath to 144°F with an immersion circulator
Pour the wine and port into a large pot and boil over medium heat until it reduces by half, allow to cool
Generously season the short ribs on all sides with salt and pepper and then lightly dust with flour.
Heat the olive oil in a large skillet over medium high heat until shimmering
Sear the short ribs on all sides, 3 minutes per side, working in batches if necessary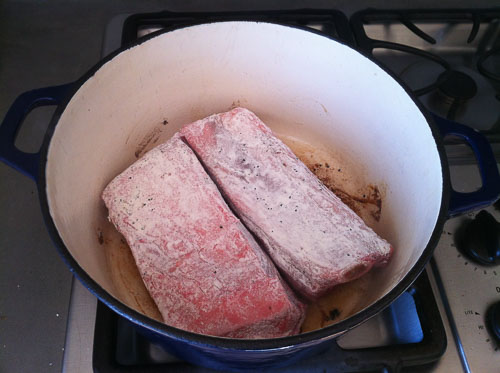 Remove the short ribs from the pan and set aside
Turn the heat down to medium low and add the onion, carrots, celery, shallots, leek, garlic, and thyme.
Cook the vegetables over medium low heat for 5 minutes stirring occasionally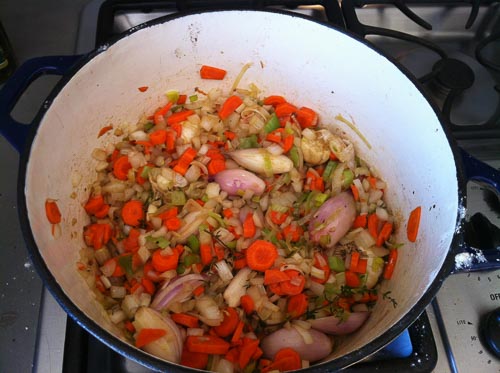 Stir in the tomato paste and cook for an additional 3 minutes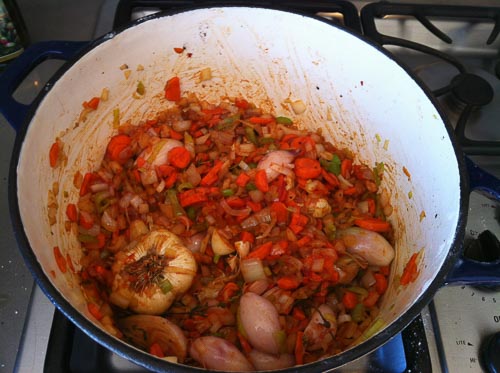 Add the stock and reduced wine and stir to evenly combine. Remove from heat and allow to cool slightly
Place the short ribs into large sous vide bags leaving enough room for the liquid and vegetables.  Depending on the size of your short ribs this should be around 2 per bag.
Carefully distribute the vegetable and liquid mixture among the bags and seal in a chamber vacuum sealer or using the displacement method.
Cook the short ribs in the water bath for 48 hours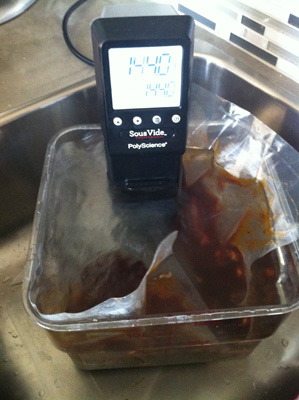 Sweet Potatoes
Start these when the short ribs have finished cooking in the water bath or make up to 2 days in advance and reheat in a small pot
Melt the butter in a high sided pot over medium heat and stir until it begins to brown and take on a nutty aroma
Add the potatoes and milk and bring to a simmer.  Lower the heat to maintain a simmer and cook for 35 minutes
Place the potatoes, milk, salt, and pepper in a blender (check out my vitamix and Blendtech review) and process until very smooth
Adjust seasoning with salt and pepper as necessary
Fried Shallot Rings
These can be made a few hours ahead of time if kept in an air tight container
Fill a large pot with about 3 inches of canola oil and heat to 300°F – try using an induction burner to get to a precise temperature quickly
Using a mandolin slice the shallot into very thin slices
Separate the rings into the bowl of rice flour and coat each ring evenly
Fry the rings in the oil until they are brown and crispy (about 30 seconds to one minute)
Drain the rings on a paper towel lined plate and season with salt
To Finish
While the sweet potatoes are simmering, remove the short ribs from the bags, pull out the bones (they should slide right out) and put in a baking dish in a 200°F oven to keep warm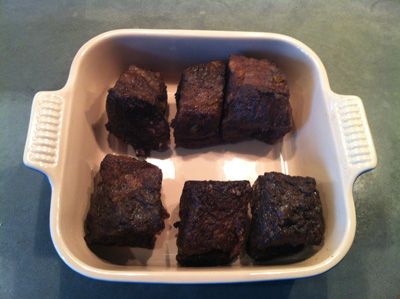 Strain the liquid from all bags into a large pot, discarding the vegetables and other solids
Boil the liquid on high until it has reduced by half.  Add the xanthan gum and process with a stick blender until the liquid has reached the consistency of a smooth gravy
Plate the short ribs, ladle the gravy over top, and garnish with the shallot rings.
Plate the sweet potato puree and enjoy!