Ingredients – Serves 6
 Beet Ice Cream
2 medium sized beets
170 g sugar (divided into 30 g and 140 g)
50 g mascarpone cheese
450 g milk (divided into 30 g and 420 g)
8 g cornstarch
2 g Kosher salt
290 g heavy cream
35 g corn syrup
Zest of one orange
 Beet Pickled Turnips
1 large turnip
100 g beet juice – from one large beet
50 g red wine vinegar
 Scallops
12 fresh scallops
Lemon and lime juice
Extra virgin olive oil
Fresh chives, finely chopped
Preparation
Beet Ice Cream
Preheat the oven to 450°F.  Wrap the beats in aluminum foil and bake for 1 hour
Let the beets rest until cool enough to handle then peel.  Rough chop and puree in a food processor.
Combine 125 g of the beet puree with 30 g of the sugar and the mascarpone and set aside to cool
Mix 30 g of the milk with the cornstarch to create a slurry – set aside till ready to use
Combine the remaining 420 g of milk, the ream, sugar, corn syrup, orange zest in a large pot.  The mixture will boil heavily so use a pot with plenty of head space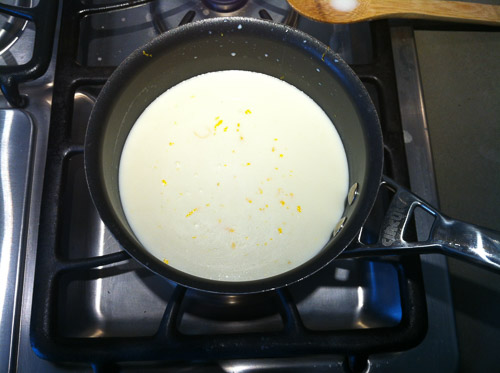 Bring to a boil over medium high heat and allow to boil for 4 minutes
Whisk in the cornstarch slurry and bring to a boil again.  Boil for one minute, stirring constantly, until slightly thickened.
Pour the hot milk mixture into the bowl with the beet puree and whisk until completely combined and smooth.
Cool the mixture in a metal bowl set over an ice bath and refrigerate until extremely cold.  This will help ensure a smoother final product.
Churn the mixture in an ice cream machine following the manufacturer's instructions, until thick and creamy.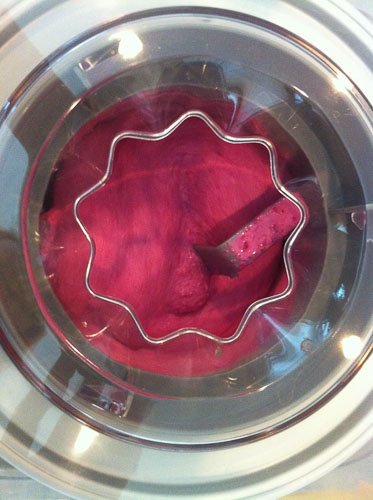 Allow to harden in the freezer for at least 4 hours and then remove 45 minutes before serving.
Beet Juice Pickled Turnips
Juice one large beet to produce 100 g of juice.  Mix the juice with the red wine vinegar and set aside
Peel the turnip and slice very thinly using a mandolin.  Using a 1 inch biscuit cutter or ring mold, punch out 30 rounds.
Vacuum seal the beet juice and turnip rounds using a chamber vacuum sealer (or the displacement method).
Let rest in the refrigerator for at least one hour and up to one day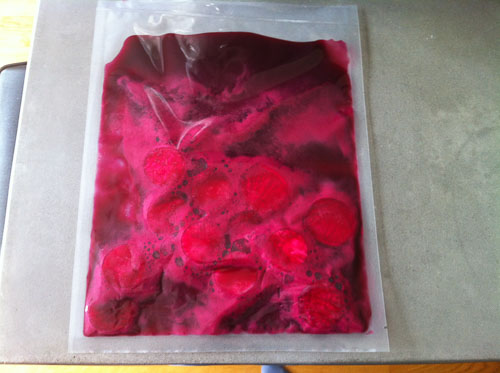 Final preparations
Slice the scallops horizontally into 1/4 inch rounds.  Arrange the scallops and turnip rounds in a circular pattern onto a well chilled plate leaving room in the center for the ice cream.
Drizzle the scallops with the lemon and lime juices, olive oil, and chives.  Finish with a bit of salt.
Plate a quenelle of beet ice cream in the center and serve immediately.