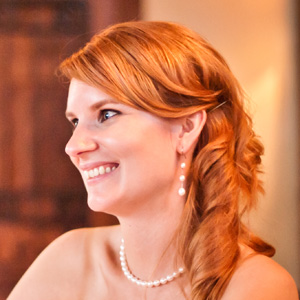 Learn about me and how I went from a frozen pizza queen to a burgeoning modernist home cook!   
Two years ago I was living in Geneva, Switzerland subsisting on frozen pizza, bread and cheese.  I couldn't cook…anything.  Seriously.  I'd meet friends in the grocery store and they'd laugh at the 15 frozen pizzas in my cart.  After this slightly humiliating event, my husband picked up a French cookbook he got at the airport.  
In true Julia Child fashion my first dish and first failure was boeuf bourguignon.   It was watery, flavorless, and chewy.  But it was a start.  While I wasn't a natural chef, I wasn't a quitter either.  I tried again, and again, and again until one day it was perfect.  And so I moved on to the next recipe and slowly but surely got better.
My initial dinner parties were a bit of a hot mess…I once forgot to remove the cherry pits in a clafoutis…but with those too I learned from my mistakes so that you don't have to.
I need a challenge, I love math and science, and I deal with precision very well.  I think that's what initially drew me to the fledgling area of modernist cuisine in the home.  It's not something everyone can do these days, relies on new techniques and ingredients, and requires both precision in time and ingredients.  But don't let that scare you off…I'm mastering the technical stuff so you can learn from the mistakes I've already made.
I also love marrying sweet and savory or sweet and salty elements.  My guilty pleasure is salted chocolate or salted caramel.  I love the different textures and the unexpected tastes in your mouth.  You'll see that come through in a lot of the recipes I choose to make from parmesan and cayenne cookies to sous vide pork loin with chestnut cream filled chestnut puffs.
When I first became interested in Modernist Cooking I found the only books and sites available were full of ingredients unavailable in my local grocery store, recipes that assumed I was a trained chef, and equipment I couldn't find for under $5,000! Even when I did find a recipe that seemed doable I found myself practicing and failing several times before getting it right.
After countless burned pressure cookers, hours of searching for obscure ingredients, and hundreds of wasted vacuum bags I finally decided to share what I had learned to help aspiring Modernist cooks at home make creative and inspiring dishes without repeating all my mistakes.
Bon Appetit!
Bethanie