These little bites are a really versatile addition to the recipe repertoire.  With just a touch of sweetness, some saltiness from the parmesan, and the aroma of rosemary, these nibbles pair really well with sparkling wines and aperitifs.  I typically serve them before dinner as an appetizer that gets the pallet going and provides just enough of a base in the stomach for continued alcohol enjoyment.  Try these with the Chocolate & Cayenne cookies and your guests will be really surprised by these savory cookies.
For more inspiration check out one of the dinner parties these were featured in.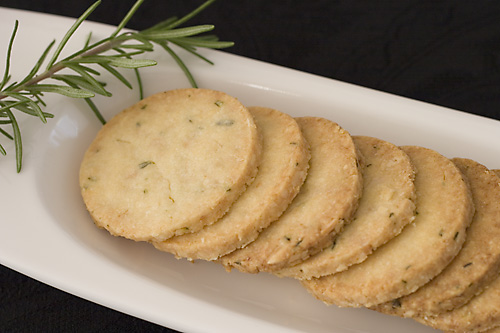 Ingredients – Makes about 3 dozen
175g slivered almonds

35g sugar
4g finely chopped fresh rosemary
250g flour
30g grated Parmesan cheese
3g fine sea salt
225g cold butter, diced (about 2 sticks)
2 large egg yolks, beaten
Preparation
Preheat the oven to 350°F (normal oven) or 325°F (convection oven)

Spread the almonds on a baking sheet and bake for 10 minutes or until golden.  Turn off the oven and allow the almonds to cool
In a small bowl rub the sugar and rosemary together to release the oils in the rosemary.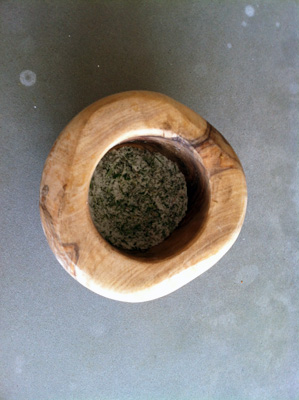 In a food processor, combine the rosemary sugar mixture, almonds, flour, Parmesan cheese and salt.  Pulse the mixture until the almonds are coarsely chopped.
Add the butter and pulse until small clumps begin to form.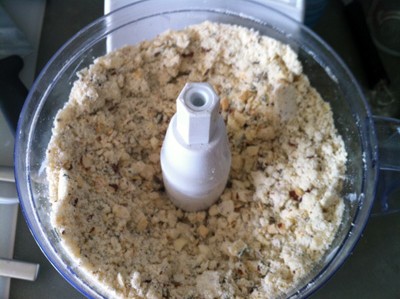 Add the egg yolks and continue pulsing until large clumps of dough form.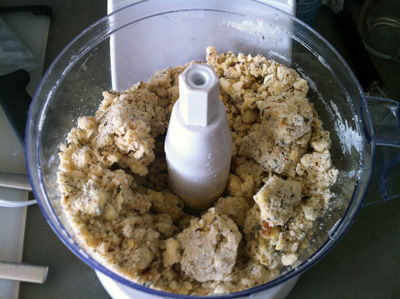 Transfer the mixture to a work surface covered with wax paper and knead just until it comes together into a ball shape.
Divide the dough into two equally sized pieces and flatten into a disk.
Roll out each disk between two sheets of wax paper till about 1/4 inch thick.  Slide the disks (in between the wax paper) onto a baking sheet and freeze for one hour.
Preheat the oven to 350°F (normal oven) or 325°F (convection oven).
Working with one disk at a time, punch out 1 1/2 inch round cookies with a cookie cutter or ring mold.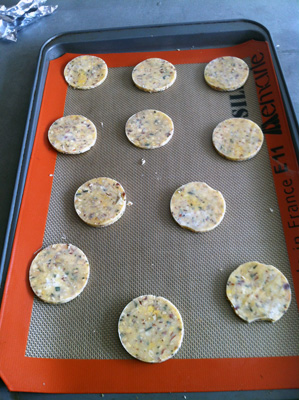 Place the cookies on a baking sheet covered with a silpat or parchment paper and bake for 15 minutes, rotating the baking sheets halfway through.
Let the cookies cool and then store in an air-tight container.
The cookies can be stored for 2 – 3 days and the dough up to two weeks if frozen.