Brioche is such a good accompaniment for any rich and creamy dish like chicken velouté with sweetbreads.  Like any good bread, it takes some time, but you'll get visible confirmation along the way that you are on the right track.  Pairing this bread with an easily made truffle butter makes it even more delectable.
Ingredients
The Sponge
50g warm whole milk (100°F – 110°F)
3g active dry yeast
20g egg lightly beaten (about 1/3 of an egg)
80g flour
The Dough
15g sugar
2g kosher salt
80g eggs lightly beaten (about 1 1/2)
60g flour
55g butter at room temperature
Truffle Butter
450g butter at room temperature (about 1 stick)

1 black truffle (about 25g)
2g fleur de sel
Preparation
The Sponge
Put the milk, yeast, egg and 60g of the flour in the bowl of a stand mixer and bring together by hand with a rubber spatula until just incorporated.
Sprinkle the remaining 20g of flour on to and let rest for 30 – 40 minutes.  The flour will crack at some point as the yeast activates.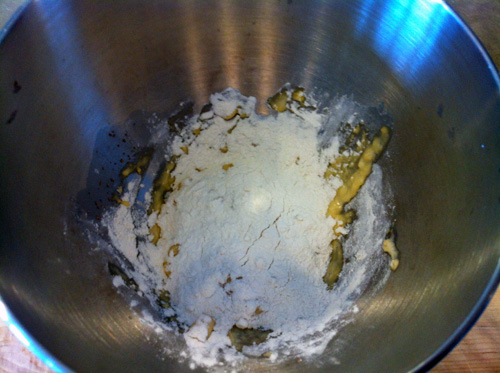 The Dough
Add the sugar, salt, eggs and 40g of the flour to the mixture in the bowl of the stand mixer.
Attach the dough hook and mix on low speed for 1 – 2 minutes until everything just comes together.
While mixing, sprinkle in the remaining 20g of flour.  When the flour is incorporated, increase the speed to medium and mix for 15 minutes.  Stop to scrape down the sides every few minutes to ensure everything remains incorporated.  The dough should be hung around the hook at this point.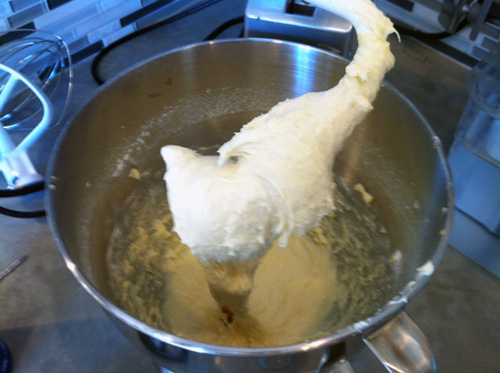 Turn the mixer down to medium low speed and add the butter 10g at a time.  At this point the dough will break – don't panic.  It will once again come together.
When all the butter has been added turn the mixer up to medium and mix for 5 minutes.  After 5 minutes the dough should be once again wrapped around the hook like a dough ball.
If the dough is not coming together, add a tablespoon of flour.  In the end the dough should feel cool and tacky.
Transfer the dough to a large buttered bowl and cover tightly with plastic wrap.  Let it rise for 2 1/2 hours.
By now the dough should look something like this
Deflate the dough by picking it up and letting it drop a few times.  Then cover with plastic wrap and put into the refrigerator for at least 4 hours and up to overnight.
Divide the dough into 6 evenly sized balls and place into a silicone mini loaf pan.  The dough will look like it is too small, but don't worry.
Let the dough rise to room temperature (about an hour) it will continue to expand.  Preheat the oven to 375°F.
Bake the bread for 20 – 25 minutes until the internal temperature reaches 200°F.  Cool on a wire rack.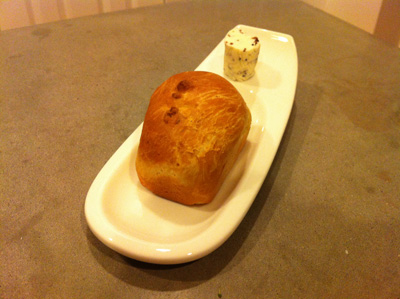 Truffle Butter
Chop the truffle into the smallest and finest pieces possible

Mix the truffle, salt and butter together by hand with a small spoon
Lay the mixture along the edge of a piece of plastic wrap.  Roll the mixture into a log like shape and refrigerate.
Butter can be frozen for up to two weeks
Assembly
Place a miniature loaf on each plate with a pat of the truffle butter
Serve with the Chicken Velouté