It is with cooking eggs that the sous vide method really showcases its worth.  The consistency and temperature of an egg is affected by its temperature with each degree making a noticeable difference.  Boiling eggs relies on an estimation of time to get to the desired temperature.  But just a few seconds too long can result in an over cooked rubbery yolk.  Cooking these yolks at their ideal temperature of 148°F results in an egg yolk that it a soft and tender gel.  Deep frying in panko breadcrumbs brings a nice contrasting crunch.
I typically pair this dish with my pressurized egg sponge cake, parmesan creme brule, and deep fried custard.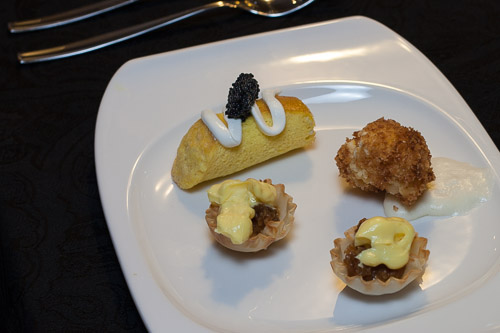 Ingredients – Serves 4
4 egg yolks
1 egg lightly beaten
1/2 cup panko bread crumbs
1/2 cup all purpose flour
oil for frying
salt
Preperation
Heat the water bath to 148°F
Place each of the egg yolks into a small ziploc bag, remove as much air as possible, and seal.  Vacuum sealing runs the risk of breaking the yolk.
Clip the bags to the side of the sous vide container to avoid the yolks from crashing into each other or the coils and breaking before they are solidified.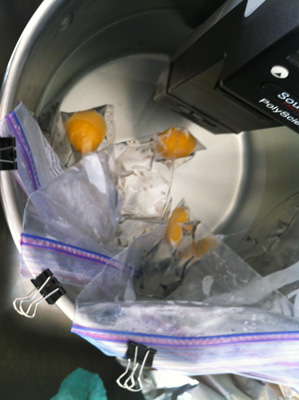 Cook sous vide at 148°F for 45 minutes
Place the yolks in a bath of warm water until ready for frying
Carefully roll each egg yolk in flour, dip in the egg, then cover with the panko breadcrumbs
Fry the yolks until they float and are golden brown on each side
Place on a paper towel lined plate and sprinkle with salt