So I'm generally not a big fan of funny tasting ice creams.  While I can appreciate the flavors and ingenuity that went into them, I often times find myself just wanting it to taste sweet and like something familiar.  But this one is surprisingly good as a pallet refresher with a good balance of creaminess and acidity and just enough salt to keep it savory.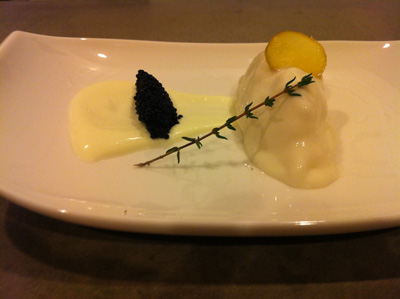 Ingredients – Serves 4
Potato Ice Cream
10g canola oil
400g peeled and sliced russet potatoes
250g skim milk
250g whole milk
20g agave nectar
6g salt
250g creme fraiche
12g melted butter
Creme Fraiche
100g creme fraiche

pinch of salt
10g lime juice
To Finish
100g Caviar

4 small thyme sprigs
Preparation
Potato Ice Cream
Preheat the oven to 350°F
In a large oven safe sauté pan heat the canola oil over high heat.  Add the potato slices and cook for 2 – 3 minutes stirring regularly.  Place the pan in the oven for 20 minutes.
Place the potatoes in a pot (discarding any remaining oil) and add both milks, the agave nectar, and the salt.  Bring the mixture to a simmer then immediately remove from heat.  Cover and steep for 45 minutes.
Strain, reserving the potatoes and their cooking liquid separately.
Measure out 100g of the potatoes and place them in a blender.  Discard the remaining potatoes.  Place the potato cooking liquid, the creme fraiche, and melted butter in the blender with the potatoes and blend on high until a smooth pure is formed.
Strain the liquid through a fine sieve and chill completely.  Once cool, freeze in an ice cream maker and then freeze for at least 4 hours.
Creme Fraiche
Combine all ingredients and stir vigorously until a smooth paste is formed.  Chill until needed.
Assembly
Place 25g (about 2 tbsp) of creme fraiche on each plate and smear slightly.  

Place a spoonful of caviar on top of the creme fraiche.
Place a spoonful of potato ice cream onto the other side of the plate and garnish with the thyme sprig.