This recipe is adapted from Todd Kelly of Cincinnati's own Orchids in the Hilton Netherland Hotel.  This dish is extremely easy and most of the preparation can be done well in advance, just leaving you with frying the beignets and plating the garnishes.  I always pair this dish with an off-dry Riesling with high acidity to break through the fat and couple with the sweetness of the honey.
 Ingredients:  Serves 6
 Almond Brittle
100 g sugar
50 g corn syrup
10 g brown sugar
10 g unsalted butter, softened
6 g Kosher salt
100 g sliced almonds
Spiced Honey
1 g black pepper
3 cardamom pods
1 g allspice
2 cloves
1 g cumin
1 g fennel seeds
100 g honey
25 g apple cider vinegar
 Blue Cheese Beignets
145 g whole milk
65 g unsalted butter
115 g all purpose flour
4 eggs
1 g chopped thyme
65 g blue cheese, crumbled
1 g Kosher salt
Vegetable oil for frying
 Salad for Garnish
10 g Dijon mustard
50 g white balsamic vinegar
150 g extra virgin olive oil
Kosher salt to taste
Mixed Salad Greens
Order of preparation:
The spiced honey and almond brittle can be made several days in advance.  The beignet dough can be made a few hours ahead of time if you cover the surface with saran wrap to prevent oxidation.  The vinaigrette and salad should be prepared immediately before serving.
Almond Brittle
 Preheat the oven to 350° F and line a baking sheet with a silpat or parchment paper
Mix together the remaining ingredients until well combined
Spread the mixture into a thin layer onto the baking sheet and bake for 15 minutes
Allow to cool until hardened, then break into small pieces
Reserve in an air tight container until ready for use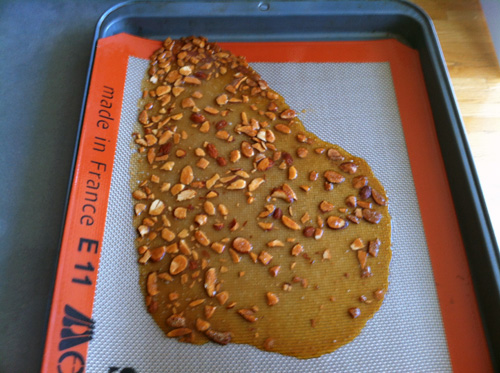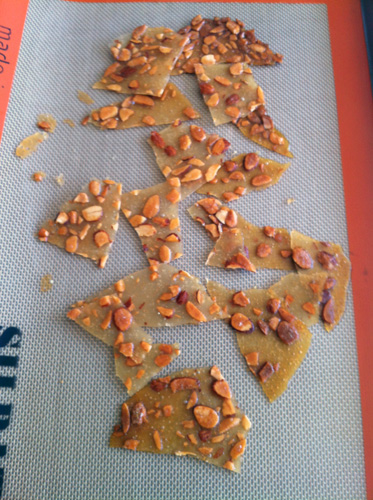 Spiced Honey
Combine all spices in a small nonstick skillet and toast over medium heat (about 2 min)
Add the honey and cook until the mixture is fragrant (about 2 min)
Allow the mixture to cool slightly and add the vinegar.  Stir to combine and then cool completely
Transfer to a squeeze bottle until ready for service
 Blue Cheese Beignets
In a small pot, heat the butter and milk over medium heat until the milk begins to boil
Add the flour all at once and stir with a wooden spoon to combine
Cook, stirring continuously for about 2 minutes to cook out the flavor of the flour
Transfer the dough to a stand mixer fitted with a paddle attachment and beat the dough on medium low for one minute
Turn the speed up to medium and beat in the eggs one at a time
Turn the speed down to medium low and add in the blue cheese, thyme, and salt.  Beat until well combined.
Place the dough in a container and cover with saran wrap.  Refrigerate until ready for frying
 Final preparations
In a large heavy duty pot or deep fryer, heat the vegetable oil to 325°F
Prepare the vinaigrette by first mixing the vinegar and mustard in a small bowl.  Slowly drizzle in the olive oil, while continuously whisking until the mixture is emulsified
Plate the spiced honey in the bottom of a shallow bowl or plate
Using an ice cream scoop, drop balls of beignet batter into the oil and fry for four minutes, turning occasionally to prevent burning.  Drain the beignets on a paper towel
Plate two beignets on top of the spiced honey
Toss the mixed greens in the vinaigrette and plate in between the two beignets
Place on piece of almond brittle on top of the salad greens
Sever and enjoy!