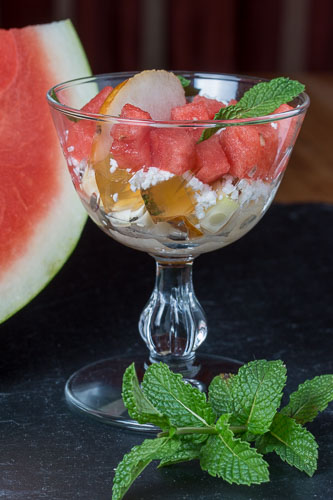 A verrine is simply a small glass that contains a layered dish, usually an appetizer, salad, or dessert rather than a beverage. The artistry in these dishes lies in the beautiful patterns you can achieve through layering elements of different colors or textures.
In this verrine, different fruits, vegetables, and even a gelatin are put together to make a brightly colored and refreshing appetizer.  I typically serve this as part of a broader watermelon tasting menu along with infused and compressed cubes and a sorbet.
The gelatin can be made up to five days in advance and the verine, minus the mint garnish, can be made a day in advance.
For other delicious and beautiful summer recipes check out my innovative ham and melon tasting menu.
Ingredients:  Serves 8
100 g water
5 g powdered, unflavored gelatin
100 g honey
5 g fresh mint, minced
4 g Kosher salt (divided)
1 ripe Anjou pear
10 g fresh lemon juice
1 cucumber
100 g crumbled feta cheese
400 g watermelon, cut into small dice
32 small mint leaves, for garnish
Preparation
Gelatin
Pour the water in a small bowl and sprinkle the gelatin over top; let rest for 5 minutes to soften
Melt the honey in a small pot over medium heat.  Add the water and gelatin mixture and stir to completely dissolve
Add the mint and 2 g salt and stir to distribute.
Pour the mixture in a small 4 in square baking dish or tupperwear container and refrigerate until firm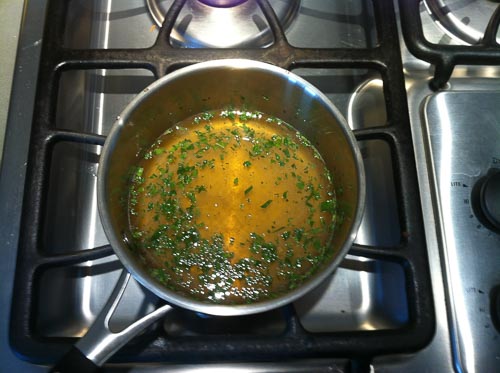 Assembly
Halve the pear and cut 8 thin quarter pear slices to be used for garnish.  Cut the remainder of the pear into small ¼ inch dice.  Toss the dice and slices with the lemon juice.
Chop the cucumber into 1/8 inch thick quarter moons and toss with 2 g of salt
Cut the gelatin into ¼ inch dice and remove it from the baking dish
Evenly divide the pear between each of 8 verrine or other small glasses.
Repeat with the cucumber, gelatin, feta, and watermelon.
Top each glass with a pear slice and 4 miniature mint leaves.
Refrigerate for at least 20 minutes and up to one day before serving.