Per the schedule I'm not even supposed to be cooking today.  But per my earlier ingredient and timing mishaps – cooking I am.  I need to finish up the lobster sauce and the plated lobster dish to test it out and I need to try the deep fried custard.
First the custard.  The preparation is really pretty simple and just requires a couple ingredients.  After allowing it to set for the required three hours it was time for frying.  I finally had the long awaited potato starch so I did my dredging and dropped it in the oil.  Two minutes later I was disappointed.  The potato starch produced such a light crust that it offered almost no crunch resulting in the gooey custard leeching through the thin coating.  So now I have a giant bag of potato starch.  Awesome.
Potato Starch = Not Crispy
Luckily this was just a tryout dish and I had more to play with.  Next I tried coating it in panko breadcrumbs.  This produced a much better result with a golden brown crust that provided a lot of crunch.  Much less delicate, but more flavorful and enjoyable to eat.  Panko really is a wonder ingredient.
Panko = Crispy
On to the lobster dish.  This dish has a lot of components that all need to be ready at the same time.  The purpose of this tryout is to figure out how long each component will take, what I can do ahead of time, and then figure that into the schedule.  I can finish the sauce and freeze that so all it needs is heating up on the day of the meal.  The onions which garnish the dish can be cooked ahead of time and then just glazed before service.  The mushroom and marrow will need to be cooked immediately before serving, but they take just a couple minutes each so it won't be difficult.  All sounds good in theory, but this ends up being an all day dish.  In the end it looks good, but the sauce is very thin.  I think I'll add a bit of xanthan gum on the day of the dinner to give it a bit more body.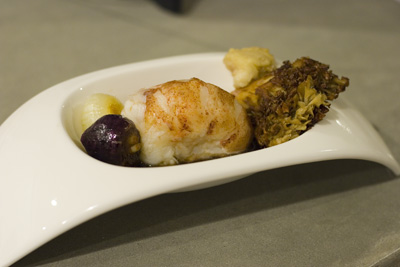 Day 3 of Prep is over and I've finished all the stocks.  Now it's time to create the crazy detailed schedule leading up to the dinner.  Some may cringe at the insanity of the schedule.  But after drinking a few bottles of wine there is no way I'd remember to do half of what needs to be done.  For me, this is peace of mind.