We are entering the home stretch.  It's New Year's Eve Eve and I'm planning on finishing several courses today in order to make my tomorrow bearable.  Anything that can be finished ahead of the big day will be finished today.  On the schedule today are the finishing components of the dessert, the Mushroom course which I have never attempted before (livin on the edge), a sauce, and the parmesan cream I failed at in the trial phase.  Today has the potential for disaster or glory…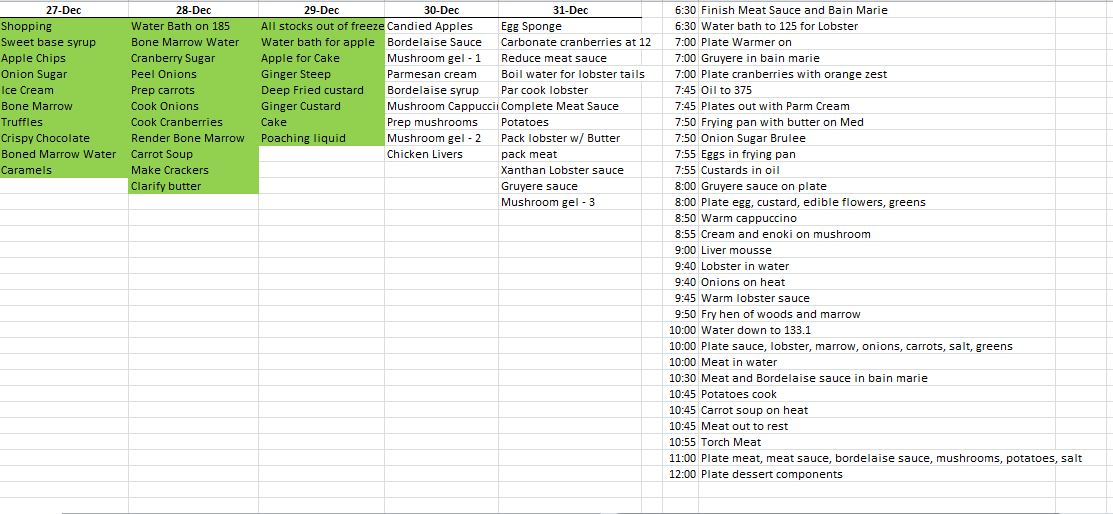 First we are candying the apples.  In Thomas Keller's book, Under Pressure, from whence this recipe is derived, the picture shows perfectly cylindrical apple spheres supporting the dessert…which is impossible.  Your melon baller will produce lovely hemispheres which may have a slightly round edge if they were taken from the top rounded part of the apple.  But for the most part you'll have plain old clunky hemispheres which you need to cook sous vide in a sugar and white wine poaching liquid for three hours.
If you don't have a chamber vacuum sealer you can easily use a ziploc bag by just rolling the bag till the liquid reaches just below the zipper and almost all the air is forced out.
A chamber vacuum sealer allows you to seal bags with liquids in them, but it is extremely expensive.
The Mushroom course is next on the list.  This is a recipe adapted from Heston Blumenthal.  I originally included this course in my NYE dinner because I had one pescetarian coming to dinner.  The plan was for 5 of 6 courses to be completely vegetarian and then substitute fish for the meat course.  Miraculously my 5 year solid pescetarian friend resumed her meat eating ways a few days before NYE.  So instead of gorging ourselves on meat for every course we were left with this lovely mushroom course, which ideally should be used as accompaniments rather than mains.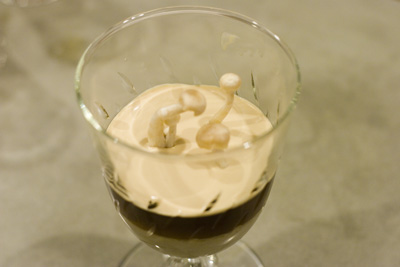 This is the dish that uses ice filtration for the stock.  This photo doesn't do it justice, but the middle layer is an impeccably clear layer of mushroom stock.
A second component of this dish was the mushroom cappuccino; mushroom stock fortified with Madiera and a bit of salt placed in an espresso cup and topped with chicken liver mousse.  The effect should be that your guests believe they are drinking a coffee drink only to be surprised by the taste.  Unfortunately the presentation was rather unappetizing with blobs of congealed chicken liver mousse floating on top.  Next time I'll leave the mousse at room temperature and use a hand mixer to froth it a bit.  It did however, taste amazing…even to the recently converted vegetarian.
Finally we are on to the Parmesan Crème Brûlée.  This time I read the recipe several times and ensured I didn't forget critical steps, but still my first attempt was less than stellar.  This recipe uses a stove top water bath to cook the custard to a precise temperature.  You place the custard filled cups in a pot of water, heat to 172°F, and cook for 20 minutes.  I learned two important lessons during this attempt.  1) you need to watch the water constantly to ensure it doesn't get too hot or too cold.  I obviously need to figure out how to leverage my sous vide supreme for non vacuum packed cooking and 2) the water needs to reach above the level of the custard in the cups.  I did not achieve #2 and the top half of my custards were runny and eggy and frankly pretty disgusting.  So for the third time in a month I had to start from scratch and remake the dish.  Stock in Parmesan cheese would likely be a good investment.
And with that, all that can be prepped has been done.  Tomorrow I'll rise early to finish preparing all the dishes, will lay out my prep and plating strategies and will revel in the NYE festivities!