elBulli is without a doubt one of the best restaurants the world has ever seen and a driving force behind many advancements in cooking creativity and technology seen over the past 30 years.  Ferran Adria has been described as the Picasso of the cooking world for his bold and innovative approach to cuisine, which he calls deconstructivist and defines as such:
"Taking a dish that is well known and transforming all its ingredients, or part of them; then modifying the dish's texture, form and/or its temperature. Deconstructed, such a dish will preserve its essence… but its appearance will be radically different from the original's."
His reign as elBulli, which has lasted since 1987, has earned him three Michelin stars for the past 14 years and an unprecedented 5 time recognition as the world's best restaurant.  Since 2011, elBulli the restaurant has ceased to exist and will operate as a foundation dedicated to cooking research and development.
elBulli 2005 – 2011 is a seven volume opus to the creative genius that was Ferran Adri and his team.  The first six volumes catalogue the menu for each season the restaurant was open between 2005 and 2011, with stunning photography and detailed recipes for every dish that made it onto the menu and some that did not.  The final volume, Evolutionary Analysis, chronicles the creative process the team went through in order to develop the intricate menus found in the other novels.  It showcases techniques, products, ingredients and processes and how they all fell together chronologically to produce the ever increasing feats of grandeur elBulli was famous for.
At seven volumes and a current price of $500 – $600, this series is a heavy investment for the home cook and one must carefully consider if it will produce a good return on investment.  The most important consideration for me is my ability to reproduce any of the epic experiments laid out by Ferran and his team.  After flipping through all six of the recipe volumes, I've come away a bit demotivated and intimidated.  I consider myself a fairly advanced home cook with a lot of professional equipment and yet I stumbled across only a handful of things that I felt confident I could reproduce with some practice and patience.
The most frustrating thing is the extensive equipment needed for even the most basic 'snacks' as Adrian calls them.  He routinely uses a tailor made freeze dryer, which according to eBay could be mine for a mere $10,000 and the $5,000 Pacojet.  Another thing making these tomes difficult to maneuver is the very limited instruction set.  For such complicated recipes, one would hope for a bit more information to ensure proper preparation.  Although the review on the publisher's website promises tips on new techniques, hard to find ingredients, and presentation, I must have missed that section because I could never figure out where to find fresh sea anemone…other than my local Walmart pet aisle.
That being said, the book itself is gorgeous.  The recipes are clearly laid out and the full page photography for every recipe is really breathtaking.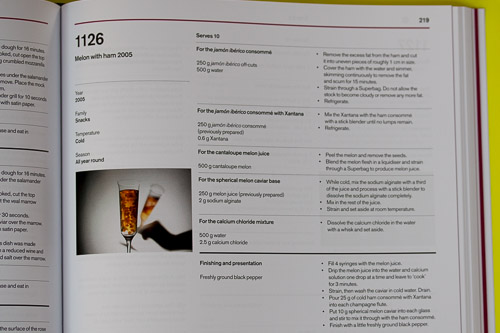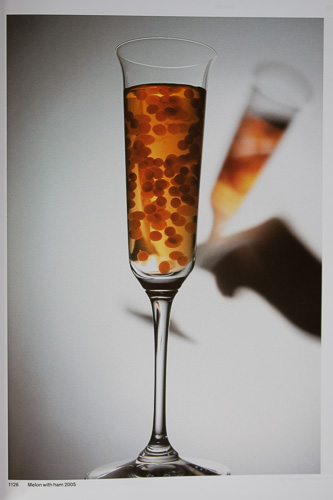 If you are a professional chef (and why would they be reading this blog) then absolutely charge this to the corporate credit card and have a field day.  If you are simply an adventurous over achiever who wants to impress your friends, you may want to instead check out Modernist Cuisine, which I found to be much more informative, easy to use, and less intimidating.  You can also check out my side by side review of both sets here.
Click here for more reviews and buying options.