A very good friend of mine recently found out she's pregnant and having a boy!  In order to celebrate, her parents came up for the weekend and I prepared an epic dinner party.  Now…these parents aren't just any parents.  They are well versed in the best restaurants in the country and have impeccable taste.  With that I knew I had to be on top of my game.
The Menu
This was to be one of the most ambitious menus I'd done in a long time.  One so epic as to rival last year's New Year's Dinner.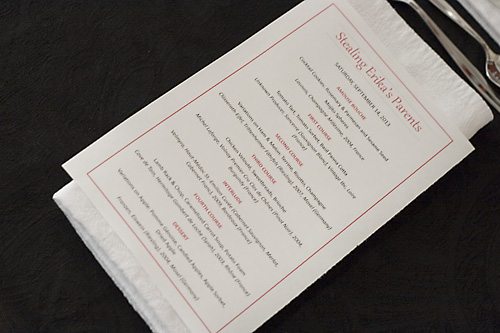 The Schedule
Both the husband and I had a grueling schedule to prepare for this dinner.  While I spent nearly 30 hours of total cooking time, he waxed the floors, polished the silver, and washed the windows.  I joked we should have guests like this over every weekend so that our house is always so immaculate.  Here's the plan I laid out to prepare for the dinner:
Prep Work
I try and accomplish as much as I possibly can during the week.  Since I have a full time job, I'm confined to the evening hours so I need to be as efficient as possible.  I try and figure out what I can do while other things are happening.  So working on the ham broth and melon terrine while the brioche sponge is fermenting for example.  By doing all this in advance, I can enjoy the dinner party and socialize with my guests.  
Timed Work
I know the timed portion makes me look like a psychopath, but for me it's peace of mind.  I don't have to worry about forgetting an important step, which becomes more and more likely as the night wears on.  Excel has a nifty time function that will adjust all other times if you link them together.  So if a course is running long or short you can easily adjust the schedule.  
The Dinner
I love these cookies and silently pray my guests don't finish them so that I have a tasty breakfast treat.  Slightly salty with just a hint of sweetness, they are a great start to any meal.  The mojito spheres take a bit of practice, but I have a video on the recipe page to help with the technique.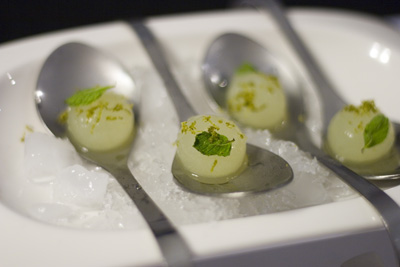 This is a really great dish for the end of summer when the tomatoes are ripe and heirloom varieties are plentiful.  You can adjust the sweetness of both the panna cotta and the sorbet with the amount of sugar you add.  For a dry crisp wine like this Sauvignon Blanc I kept it pretty tart.
This dish is an ode to the classic ham and melon pairing.  The Ham Broth and Melon Caviar has a real wow factor and the melon terrine is simply stunning. The dish is a touch on the sweet side so I pair it with an off dry Riesling from the Mosel valley in Germany.
This dish has a real depth of flavor from the concentration of the chicken stock, the addition of Sherry, and an abundance of truffles.  It pairs beautifully with any earthy pinot noir, but especially well with one from Burgundy.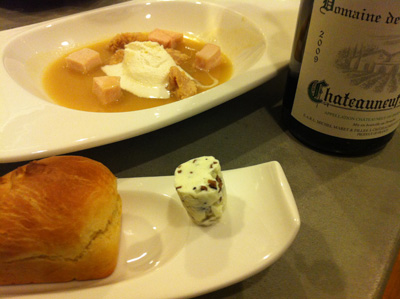 Interlude: 2009 Velmyra Haut Medoc & St. Emillion Cuvee
This dish is really a battle of the stars.  The lamb cooked medium rare for a couple hours comes out so juicy and tender that it nearly melts in your mouth.  The carrot soup, guests are astounded to learn, contains nothing but carrots and butter.  And the potato puree is so smooth and creamy that your guests will want to drink it straight from the glass.  I unfortunately forgot to take pictures at this point so I only have a few random ones featuring components of this dish.  This blockbuster dish needs a blockbuster wine so go for something from the Rhone valley like this Hermitage from the Northern Rhone.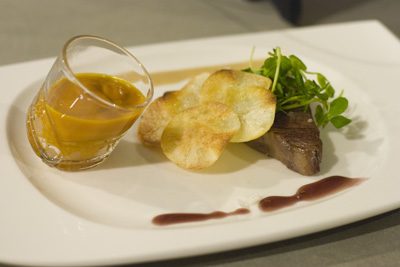 This dessert is pretty time consuming, but fortunately it all can be made a few days in advance leaving you only to assemble and serve.  It's really pretty impressive if you can get good height on the dish.  Apples and German wines go hand in hand so serve this with any German late harvest or Eiswein.
Again, my picture taking ability failed me, but here's what they look like post cutting and wrapping.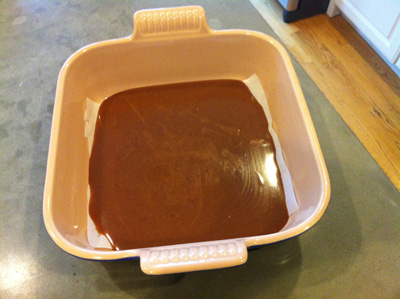 At the end of the night, step back, survey the damage, and leave the cleaning till tomorrow!