I always love the thought of a rich hearty stew in the middle of winter, but I hate the actual outcome of my typical beef stew.  Vegetables that are mushy and falling apart, meat that is tough and chewy, and a sauce that never seems to thicken correctly.  A recent Fine Cooking issue did an excellent how-to guide for stews and as I was discussing trying one, a good friend of mine (Andy Wong from The Agility Project) suggested I try modernizing it a bit by cooking everything sous vide.  It sounded like a good idea, so I decided to attempt my own version of stew with a few modern techniques.
Ingredients – Serves 6 as a main course
1,000g stew meat
150g beef fat
150g bacon chopped
150g celery diced
150g carrots diced
150g onion diced
10g tomato paste
10g garlic chopped
1 bay leaf
250g dry red wine
500g beef stock
500g peeled and chopped butternut squash
500g peeled and chopped turnips
500g peeled and chopped potatoes
3g xanthan gum (see note below)
10g lemon juice
Salt and pepper to taste
Preparation
Season the meat generously with salt and pepper.  Vacuum seal in a bag with the beef fat and cook sous vide at 140°F for 48 hours.
Remove the meat from the bag and allow to dry on paper towels.  Reserve the cooking juices in a separate bowl.
In a high sided saute pan, fry the bacon on medium high heat until most of the fat is rendered and it's just beginning to crisp. With a slotted spoon, remove it and place on a paper towel lined plate to dry.
In the same pan, sear the meat on medium high heat in batches, ensuring a nice brown crust on all sides (about 30 seconds per side).  Do not overcook or you'll ruin the perfect temperature from the sous vide cooking.
Place the meat in a container and refrigerate until needed.
In the same pan, add the celery, onions, and carrots and cook on medium high heat until softened (about 5 minutes).  Add the tomato paste, garlic, and bay leaf and cook for 2 more minutes.  Add the bacon back to the pan.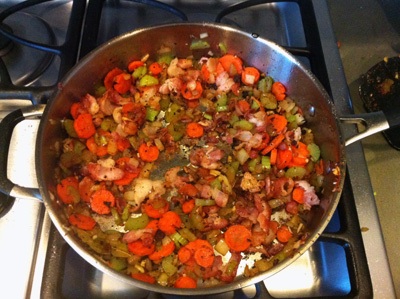 Add the red wine, turn the heat to high, and boil until reduced by half.  Scrape up all the brown bits on the bottom of the pan.
Add the beef stock and stir to combine, bring up to a boil and then turn off the heat.
Measure out the liquid, mirepoix, and bacon mixture into three equal amounts.  Place these into three sous vide bags and place the turnips, butternut squash and potatoes one type in each bag.  Using a chamber vacuum sealer makes this much easier, but you can also use a regular ziploc and try to remove as much air as possible.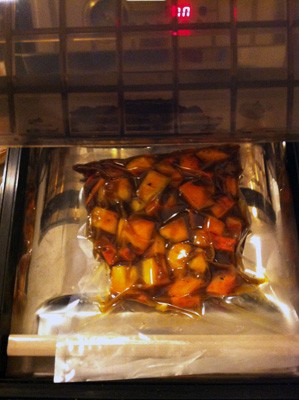 Cook the vegetables in a water bath at 185°F for 45 minutes.  Once finished, strain the vegetables reserving the liquid separately.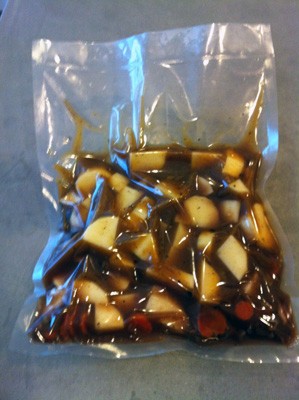 Weigh out the amount of liquid you have (around 850g is normal) and multiply this amount by 0.0035 (0.35%) to determine the amount of xanthan gum needed.  For 850g of liquid this amounts to 3g.
Measure out the amount of xanthan gum needed and add it to the liquid; allow to hydrate for one minute.  Using a hand blender, mix in the xanthan gum until thoroughly incorporated (about 30 – 45 seconds).  The sauce should be thick enough to coat the back of a spoon.  Season with salt and pepper to taste.  Add the lemon juice and stir to incorporate.
Place the sauce into a deep sided pot, add in the vegetables and the reserved meat.  Warm on low until the meat is just warmed through and the entire mixture is well combined.