This is a rather gourmet version of the jell-o shot without quite the punch of the original college favorite allowing you to claim you enjoy them for the taste rather than the buzz.  They were adapted from Heston Blumenthal at Home and were quite a hit at a recent sporting event in Cincy…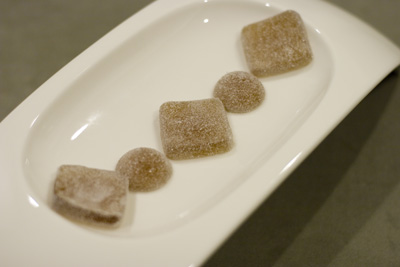 Ingredients
Misting of grapeseed or other neutral oil
200g Jack Daniels Single Barrel Whiskey or other Premium Whiskey
30g powdered gelatin
200g liquid glucose
150g caster sugar
Granulated sugar for dusting
 Preparation
Lightly grease a spherical or square candy / chocolate mold with a neutral oil such as grapeseed.
Pour 130g of Whiskey into a small pan and add the gelatin.  Stir over low heat until the gelatin is fully dissolved; remove from heat.
Pour the remaining 70g of Whiskey into another pan and add the glucose and caster sugar.  Bring to 255F over high heat (use a candy thermometer being sure not to let it touch the bottom of the pot).
Remove the mixture from heat and allow to cool to 212F.
Add the Bourbon and gelatin mixture and stir together until well blended.
Pour the mixture into a squeeze bottle and fill the chosen mold to just below full.  If you are using a larger square mold, you may want to fill it to half full in order to have a more manageable bite.
Place in the refrigerator and let set for 6 hours.
Unmold one at a time into a bowl of sugar and coat evenly.