This dessert is adapted from Thomas Keller's Pomme Genoise in his book Under Pressure.  I've simplified some of the components and scaled back the quantities from 20 to around 4.  This recipe is extremely impressive when assembled correctly, but it does take some serious planning and a big time commitment.  I've tried listing the sections in the order I prepared them in, but read through the entire recipe thoroughly before embarking on this culinary journey.  Oh and unless you have five pounds of sugar…you're likely to run out.
For more inspiration – check out the New Year's Eve 2012 dinner this dish made an appearance in.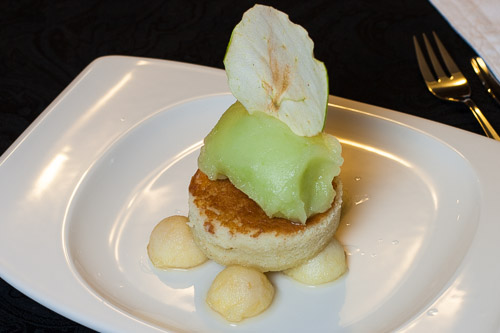 Ingredients – Serves 4
Apple Chips
250g water
250g sugar
1 Granny Smith apple
Apple Cake
1 Fuji apple (about 250g)
300g granulated sugar
Citric Acid
4 eggs
116g cake flour
Candied Apple Base
3 – 4 Golden Delicious apples
500g water
500g dry white wine
500g sugar
Apple Sorbet
90g sugar
1 g sorbet stabilizer
125g water
25g glucose
2 Granny Smith apples
Citric acid
Ginger Custard
65g heavy cream
50g whole milk
10g fresh peeled ginger
1g powdered ginger
1 large egg yolk
12g sugar
Kosher salt
0.5g gelatin
Preparation
Apple Chips
Total Time:  5.5 hours (15 min active)
Combine water and sugar in a pot and bring to a boil stirring to dissolve the sugar
Slice the apples vertically using a mandoline to achieve a very thin slice – you will need 1 per serving, but go ahead and cut a few extra just in case
Using a round cutter that is just smaller than the slice, cut out a neat circle from each slice discarding the scraps and seeds
Add the chips to the sugar syrup and cook on the lowest heat possible at just at or below simmer for 1 1/2 – 2 hours.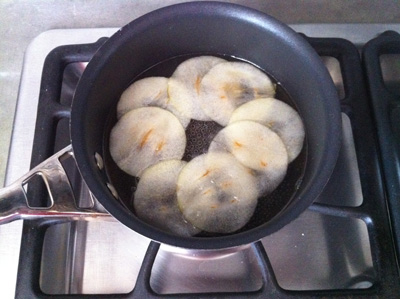 Drain the chips and pat dry any excess moisture.  Place them on a silpat in the oven at 200°F for 2 hours then allow to air dry until crisp (about 1 hour longer)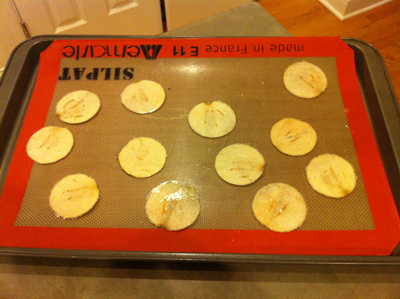 The chips can be made ahead of time and stored in an airtight container for a few days.
Apple Cake
Total Time: 4.5 hours (25 min active)
Peel and core the apple and cut into 8 wedges, toss with 20g of sugar and a pinch of citric acid and vacuum seal.
Cook in the water bath for 30 – 40 minutes.  While still hot, transfer the apple and any juices to a blender and puree completely.  Cool over an ice bath
Preheat a convection oven to 325°F (conventional 350°F).
Line a 9 inch baking pan with parchment paper and spray it with cooking spray
Combine the eggs and remaining 280g sugar in a stand mixer fitted with the whisk attachment.  Whisk on high for about 10 minutes or until the ribbon stage.
Fold in the cake flour and apple puree.  Pour into the prepared pan.
Bake for 22 – 25 minutes or until the top is golden and an inserted toothpick comes out clean.
Let the pan cool to room temperature and then cover and place the entire thing in the freezer until frozen (about 3 hours).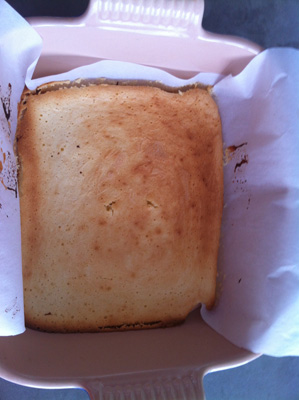 Candied Apple Base
Total time:  3.5 hours (15 min active)
Combine the wine, water, and sugar in a saucepan and bring to a boil, stirring to dissolve all the sugar.  Let cool completely.
Peel the apples and scoop out balls using a melon baller.  You will need 5-6 balls per serving for a total of 20 – 24.
Place the balls and liquid in a bag and vacuum seal with a Chamber Vacuum Sealer.  Alternatively place them in a ziploc bag and using the displacement method remove all air and seal.
Cook in the water bath for 3 hours, then cool and refrigerate until serving
Apple Sorbet
Total Time:  1.5 hours (30 min active)
Bring the water and the sugar to a boil in a pot, stirring to dissolve the sugar
Add the glucose and return to a boil
Add the sorbet stabilizer, bring to a boil, and boil for 30 seconds
Remove from heat and let cool completely
Cut each apple into 8 wedges and remove the cores (leave the skins on for color)
Place 2 of the wedges into the juicer
Continue this pattern until all the wedges have been juiced
Add healthy pinch of citric acid to the juice
Stir in the syrup, refrigerate until cold and then freeze in an ice cream maker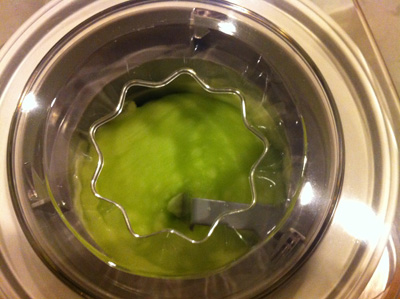 Ginger Custard
Heat the cream and milk in a saucepan until just about to simmer
Smash the ginger and add to the pot along with the powdered ginger.  Remove from heat, cover, and let steep for 20 minutes
Strain the liquid and discard the fresh ginger
Whisk the yolks, sugar, and a pinch of salt in a stand mixer for about 10 minutes or until the ribbon stage
On low speed whisk in the milk and cream mixture
Strain and chill over an ice bath
Pour the liquid into a vacuum bag and seal using a Chamber Vacuum Sealer or use a ziploc bag and the displacement method.  Add to the water bath and cook for 20 minutes
If the custard looks like it has broken lay it on a flat surface and massage the edges to recombine.  Let rest for 5 minutes
Pour the custard into a bowl and add the gelatin, stirring to dissolve.  Set over an ice bath and cool completely.
Place in a squeeze bottle and refrierate until set (about 1 hour)
Assembling
Arrange 5-6 candied apple balls in the center of a plate in a circle
Using a round cutter with a 3 inch diameter cut out a cake circle and place it on the top of the apple balls
Decorate the plate with the ginger custard as you wish
Place a scoop of sorbet on top of the cake and top with an apple chip