This recipe was originally featured in a blog from Modernist Cuisine (you can read about other cooks' experiences with this dish here).  It can be done with many types of fruits assuming you adjust the cooking time as necessary.  Softer fruits like raspberries require no cooking.  Cooking the cranberries sous vide prevents the skin from cracking and keeps the fruit intact.  If you don't have a sous vide machine you can attempt to cook them on the stove by keeping them at a temperature near 190F for 45 min.  Just don't let them get too hot or they'll crack.   Fructose and Isomalt are used as sweeteners but regular white sugar can be substituted in a 1:1 ratio for Isomalt and a 2:3 fructose : sugar ratio for fructose.
These were a great appetizer at my New Year's Eve 2012 Dinner.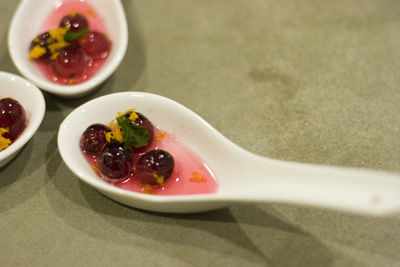 Ingredients
250g Cranberry Juice (not cranberry cocktail)
75g Isomalt (or sugar see above)
75g Fructose (or sugar see above)
150g fresh or frozen cranberries
Orange zest (optional)
Miniature mint leaves (optional)
 Preparation
Combine the cranberry juice, isomalt and fructose in a small pot and stir over low heat until the sugars are dissolved.  Cool the mixture to room temperature.
Combine the juice and cranberries and vacuum seal with a Chamber Vacuum Sealer (or use a Ziploc bag and remove as much air as possible).  Cook sous vide at a temperature of 190F for 45 minutes.
Pour into a metal bowl set within an ice bath and cool completely.
Gently pour the mixture into a whipping siphon and charge with two CO2 chargers (not the typical NO2 chargers).
Refrigerate for 8 – 12 hours (the longer you leave them the more fizzy they'll become).
Release the pressure in the siphon then open and empty the contents into a bowl.
Serve cranberries on a serving spoon with a bit of juice.  You may also garnish with a bit of orange zest and or miniature mint leaves.