A meal in preparation since December 14…let's hope it was all worth it.
A light and refreshing way to get the palate going.  This recipe was adapted from Modernist Cuisine and paired well with a Larmandier-Bernier, Champagne Blanc de Blancs.  This is a great starter for any meal as it needs to be done at least 8 hours in advance and requires 5 minutes to finish.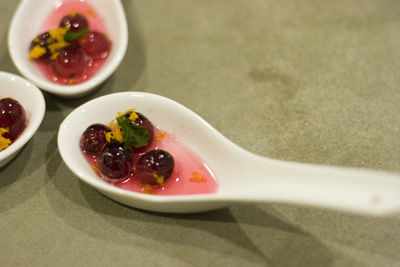 These three mini dishes all feature egg yolks as the main ingredient and are a great first course.  The dishes are quite rich so keep the portions small and provide plenty of greenery to break it up.  It was paired with a Jean Latour-Labille et Fils, Meursault Perrières 1er Cru , Burgundy, 2006 to match the creaminess of the dish.
Pressurized, Paremesan Brulee, and Deep Fried
Mushrooms are an extremely versatile ingredient and here they are done in a cold three leveled parfait and in a warm liquid made to resemble a cappuccino.   This dish features a healthy dose of Madiera so it needs a wine that won't mask the mushroom, but can stand up to the alcohol.  An Aufricht, Spätburgunder Isabel, Baden, 2008 worked perfectly.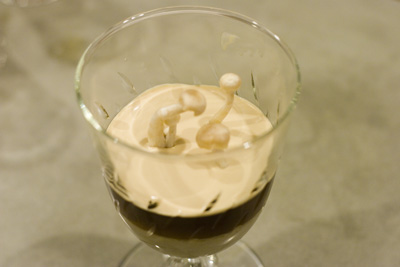 What's New Year's Eve without a bit of decadence?  These lobster tails cooked sous vide along with a half stick of butter each ensures the perfect cooking temperature and all the flavor and juiciness from the butter.  This dish is very visually appealing given the different colors of the lobster and onions and so hardly requires any work or added greenery.  Another difficult pairing given the strong flavor of the mushrooms, marrow and onions so we chose a Pollak, Cabernet Franc, Virginia, 2010.  The Cab Franc provided just enough structure and body to handle the strong flavors of the accompaniments while not over powering the lobster.
Another rich and decadent dish with tons of flavor from the caramelized carrot soup and the prime rib which had been cooked sous vide and garnished with two sauces.  This dish needed a very bold wine so we tried a Clos de Mont Olivet, Chateauneuf-du-Pape Cuvée Papet, Rhone, 2005.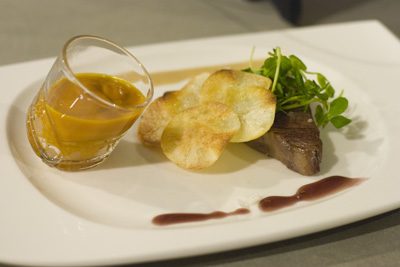 This dessert takes a significant amount of time and patience to prepare, but it's definitely worth it; particularly on New Year's Eve.  Most of the components can be made in advance so with a little planning it can be done.  For our final wine of the evening it had to be something special so we came up with Chateau de Rayne-Vigneau, Sauternes, Bordeaux, 1986 and it was the perfect pairing.  The freshness of the apples gave a nice lightness to the very rich Sauternes.
Candied, Cake, Sorbet, and Chip
When the clock struck 12 we popped open our Crackers to find some home made goodies to cap off the evening.  And for the obligatory toast we had an Iron Horse Brut X NV Sparkling Wine.
Truffles and Caramels hidden in the Crackers