Nothing modernist about this recipe, but it's one of my favorites and a staple at nearly every dinner party I host.  The smell of the baking Gruyere covers up anything else you may have been frying, cooking, or um…burning.  They are great as an appetizer giving your guests a good base for a nice bottle of champagne or a cocktail before dinner.  This is a really quick recipe I usually start about 40 min before the party starts so they are right out of the oven when everyone arrives.
Looking for more inspiration?  Check out the dinner party these little yummies were featured in.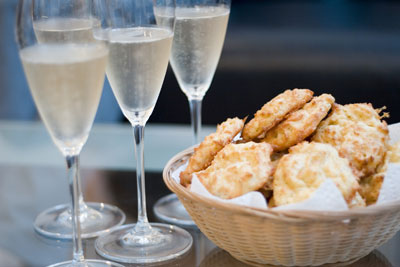 Ingredients – Makes 24
1c water
3 tbs butter cut into piecese
¾ tsp salt
1c all purpose flour
4 large eggs
1c (firmly packed) shredded Gruyere cheese
¼ tsp ground black pepper
Preparation
Preheat the oven to 400F for a standard oven or 375F for a convection oven and line two sheet pans with a silpat or parchment paper
Place the water, butter, and salt into a small saucepan and heat over medium heat stirring with a wooden spoon until the butter is melted
Add the flour and stir with the wooden spoon ensuring the flour clumps are broken up and mixed well.
Continue stirring until the mixture forms a ball and the flour pulls away from the sides.  Cook for about one minute more took cook out any of the raw flour taste.
Place the dough ball into a stand mixer fitted with a paddle attachment and allow to cool for one minute.
Turn the mixer on medium low and add the eggs one at a time allowing each one to completely incorporate.
Scrape down the sides and bottom of the bowl and mix on medium for 15 seconds to ensure everything is incorporated.
Add the black pepper and mix for another 15 seconds on low then add the Gruyere and mix until incorporated.
Spoon tablespoon size balls of the dough onto a silpat or parchment paper about 1 inch apart.
Bake at 400F for 20 – 22 minutes.  The tops should be golden brown and the inside set and no longer gooey.  If after a few minutes the puff falls increase the cooking time the next time you make these.