Tonight we had over some amazing friends for a dinner combining some old favorites and a few new twists.  At a total of 9 bottles of wine and a case of San Pellegrino among 6 people we were definitely well hydrated and lubricated.  Luckily I had one of my trusty OCD excel schedules to keep me on track.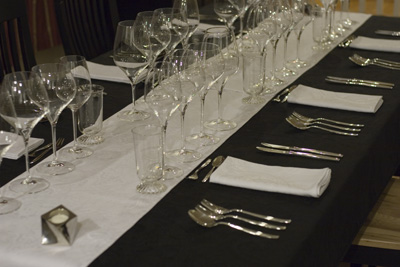 I go back to this combination time and again as it's such a good juxtaposition of tradition and modernity…and the gougeres soak up the champagne providing a good base for dinner.  The mojito spheres are always fun for people who have never had anything spherified and once you get the hang of it, not too difficult to make.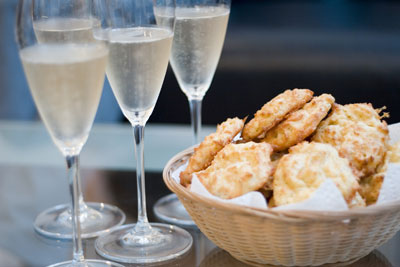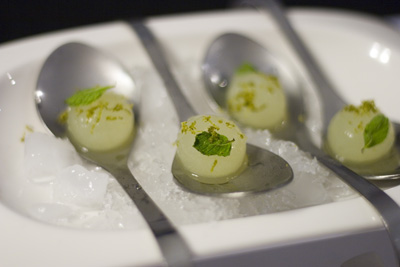 Course 1:  Scallop & Smoked Salmon Cake with Remoulade and a Cannellini Bean Salad with Prawns
This dish is a great starter and works really well on a white plate where the red and yellow peppers pop with color.  The bean salad is very simply prepared but adding a bit of the liquid released by the cooking prawns will really up the flavor.  Serve this dish with a Sancerre or other old world style Sauvignon Blanc, the herbs from the bean salad will marry well with that of the Sauvignon Blanc while the acidity will cut through the rich remoulade.
Brining the salmon in a combination of salt and sugar is what make this salmon taste so incredible.  Cooked sous vide at 125 for a mere 25 minutes, the flesh will be so delicate and tender you'll swear you're eating butter.  The mushroom pate is a very elegant side dish that brings out the earthiness in the red wine butter and is an excellent vegetarian version of pate (just substitute vegetable stock for chicken stock).  Serve this dish with a Pinot Noir from Burgundy or Oregon or a lighter style version from California to ensure you don't over power the delicate flavors of the fish and mushrooms.
Course 3:  Home Made Ravioli
Slow stewing of a combination of different types of meats with different flavor profiles and fat contents adds complexity and richness to the traditional ravioli.  The tomato sauce is really basic to let the ravioli be the star of the show.  This classic Italian dish should be served with a bold Italian wine such as Barbaresco or Barolo.  The bracing acidity will match with the high acidity of the tomato sauce.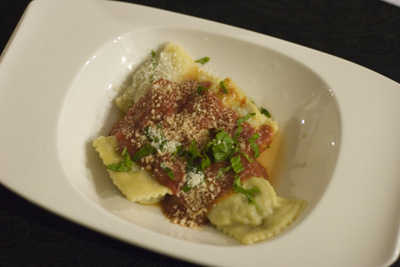 This course is a real show stopper combining an elegant presentation of the potatoes and onions and a real surprise in the deep fried béarnaise.  The deep fried béarnaise relies on the spherification process to create encapsulated béarnaise spheres which are then breaded and deep fried to give you a crunchy exterior and a warm liquid center that pairs well with any meat dish.  While this one does take some practice, my guests assured me it was well worth the effort.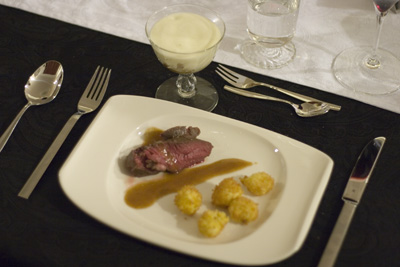 This is a visually impressive dish that doesn't even require an ice cream machine.  The recipe calls for leaving chunks of pistachio and strawberries in the mix as you freeze it which gives it a firmer more course texture.  Alternatively you can strain the solids out which will produce a more consistent and creamy feel, but loses some of its interesting aspects.
The Aftermath…

Check back soon for recipes for all the dishes you see here!