This recipe, adapted from Modernist Cuisine, is a part of a Melon Tasting I created to celebrate the diversity of summer melons.  The interesting ingredient here is calcium chloride paired with a chamber vacuum sealer which gives the melon a firmness and translucency which makes it look almost like a jewel.
If you are feeling especially ambitious, check out the epic dinner party this dish was featured in.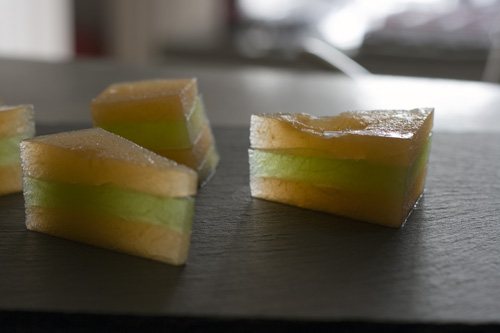 Ingredients
For the Melon
For the Pectin
100g Cold Water
3g pectin
Preparation
Stir the calcium lactate into the water until fully dissolved
Peel and remove the seeds from the cantaloupe and honeydew melons
Cut the melons into planks approximately 1cm (3/8 in) thick.  Try cutting them of similar length and width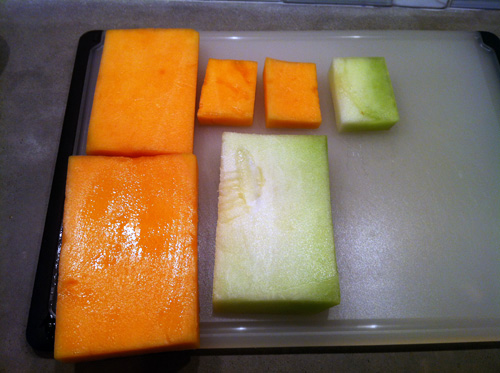 Using a Chamber Vacuum Sealer, vacuum seal the planks in an even layer with the calcium solution.  The chamber vacuum sealer with compress the melon while simultaneously driving the calcium into the fruit.  The melon will become firmer and take on a jewel like appearance.
Refrigerate for 20 minutes to allow the planks to absorb the solution.  They will take on a firmer texture and almost translucent appearance.
While the planks are in the refrigerator make the pectin solution by mixing with the water in a small pot.
Bring the solution to a boil over medium high heat while constantly mixing with a hand blender.  Continue mixing for one minute at a boiling temperature.
Cool completely in an ice bath.
Using planks of similar size, stack them into a cantaloupe – honeydew – cantaloupe tower.  Do not worry about having perfectly aligned shapes at this point.
Brush one side of the bottom cantaloupe plank with the pectin solution and place the honeydew plank on top.
Brush the top of the honeydew plank with the pectin solution and place the remaining cantaloupe plank on top.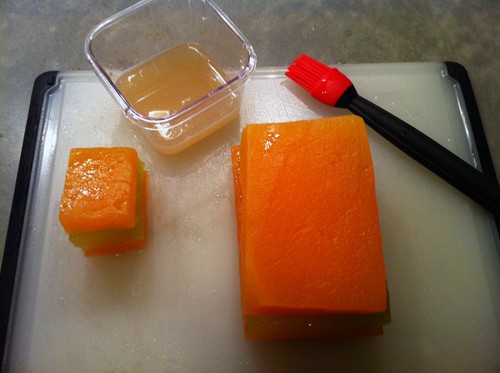 Vacuum seal the resulting tower to compress and refrigerate 12 hours.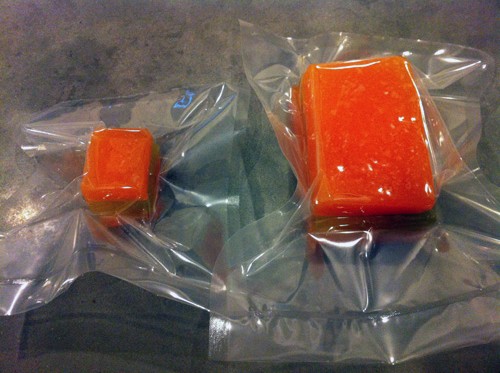 Cut into slices or the desired final shape (rectangles, squares, triangles).