Soft pretzels have been an integral part of German life for hundreds of years eaten throughout the day either alone or with a meal, often times a weisswurst. The soft fluffy interior encased by a crispy brown crust bears little resemblance to the ballpark variety Americans are subjected to.
Making your own Bavarian style soft pretzels is time consuming and requires working with lye, but the results are definitely worth the effort.  The mahogany crustiness achieved through the use of lye is really heavenly.  You can buy food grade lye here at a great price.
Ingredients – makes 6 large pretzels
1 ½ tsp. active dry yeast
19 ½ oz unbleached bread flour
2 tbs. packed brown sugar
1 tbs. vegetable oil
2 ¼ tsp kosher salt
Oil mister filled with vegetable oil or cooking spray
1 ½ tbs. food-grade lye microbeads
1 tbs pretzel or kosher salt
Make the Dough
Combine the yeast and 1 ½ cups lukewarm water (85 – 95 F) in a stand mixer for 5 minutes to rehydrate and awaken the yeast. The mixture should begin to smell yeasty and bready; if it doesn't start over with a new batch of yeast.
Add the flour, sugar, oil, and salt and mix on low speed (with the hook attachment) until a coarse ball of dough is formed (2 – 3 min). You can add water (1 tbs. at a time) if all the flour isn't incorporated.
Increase the speed to medium low and mix until it becomes a smooth elastic ball that pulls away from the sides (3 min). It should be soft and slightly sticky. If it is very tacky add more flour 1 tbs at a time.
Transfer the dough to a lightly oiled surface and knead for 3 minutes.
Form the dough into a smooth ball and place in a large lightly oiled bowl, cover with plastic wrap and let rise for 1 to 1 ½ hours or until it is roughly 1 ½ times its original size.
Place the dough on a surface lightly misted with oil and divide into 6 equal pieces of about 5 ½ oz each. Form each into a smooth round ball, cover with plastic wrap and let rest for 30 minutes.
Shape the Pretzels
Lightly mist a work surface with oil and roll one of the dough balls out into a long thin rope about 30 inches long and ½ inch thick. If the dough resists lengthening leave it aside while you work on the others and come back to it once the gluten has relaxed some.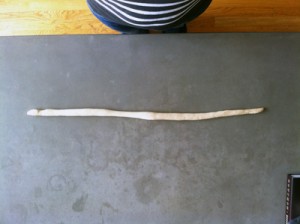 Shape your rope into a large U shape with a base of about 6 inches across and the curved part closest to you.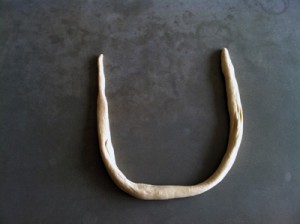 Cross the ends over each other leaving 3 inches of length on each one.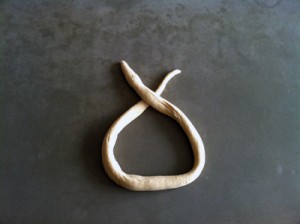 Twist the ends around each other until only 2 inches of length are left on each side.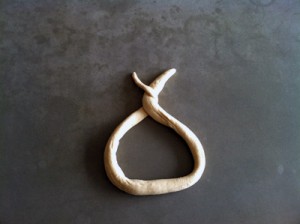 Pull the twisted end towards the base so that the ends slightly overhang and are 1 inch apart.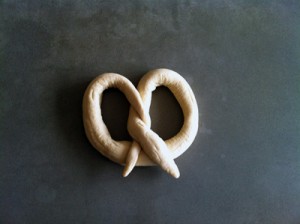 Carefully put the pretzel onto the prepared baking sheet and reshape to achieve the best pretzel shape. Cover with plastic wrap and freeze for about 2 hour (up to 4 weeks).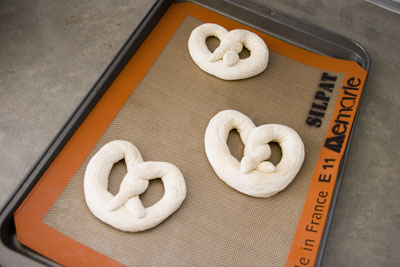 Dipping the Pretzels
Put on rubber kitchen gloves to protect your hands from the lye (read the ingredient descriptor for lye prior to using).
Pour 2 cups of cool water into a stainless steel bowl wide enough to lay one pretzel flatly. Add the lye and stir with a stainless steel whisk until fully dissolved.
Using stainless steel tongs dip one pretzel into the lye mixture and let rest for 5 seconds. If the pretzel is not fully submerged flip it and let rest for another 5 seconds.
Carefully remove the pretzel with the tongs, letting the excess water drip off, and place back on the baking sheet. Repeat with other pretzels.
Let the pretzels thaw to room temperature about 1 ½ to 2 hours. They will appear soft and puffy.
Bake the Pretzels
Heat the oven to 400 for standard and 375 for convection.
Lightly sprinkle the pretzels with salt then bake for 20 – 22 minutes when a deep brown crust should have formed.
Let the pretzels cool for 10 minute and enjoy!