Our Labor Day dinner featured a barrage of modernist techniques I had tried out for the very first time on my good friends Adam and Erika who by now realize that even if the food is inedible, the wine will flow like water, which makes up for everything else.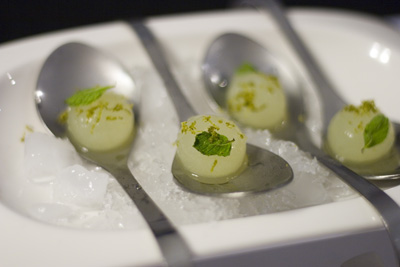 These were definitely the most impressive element of the dinner. The surprising pop this little sphere has when its gel membrane breaks elicited "Oh's!" from our guests followed by a request for another. Throughout the evening we kept munching on these little goodies forgetting that the batch contained a significant amount of rum.
From Amoeba to Spheres & To Carbonate or Not To Carbonate
While, many of my spheres looked more like amoebae or deformed cells, I eventually got the hang of it with just the one batch. We tried both carbonated and non-carbonated spheres and had a mixed verdict. Everyone enjoyed the non-carbonated spheres for their pure mojito flavor and focus on the burst of flavor.  The carbonated version gives more pop in the mouth and a real shock, but takes away from the mojito taste and that obstructs the technique by focusing you on the fizz rather than the burst. I recommend making both and deciding for yourself.
For the appetizer round, something hearty to soak up the Mojito and the freshly popped bottle of Iron Horse Russian Cuvee Sparkling Wine. For this I chose a decidedly non-modernist route and made traditional French Gougères. These cheesy delights are the perfect start to a long alcohol filled meal as they fill the stomach with lots of filling flour and cheese which helps soak up the alcohol. One tip, the Slipat, a silicone matt for lining baking sheets ensures you never scrub burnt cheese or cookies off another pan ever again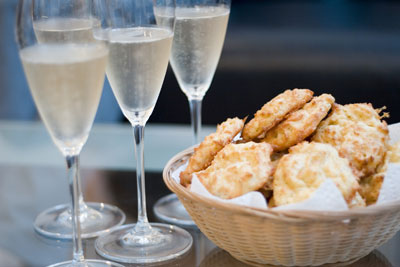 This dish is really beautiful to behold and a very clever rendition of the standard prosciutto and melon. A simple baguette with prosciutto anchors the dish and pays homage to its traditional roots.
The melon terrine elevates the humble cantaloupe and honeydew to stained glass like beauty as the Calcium lactate firms up the melon and renders it almost translucent. A pectin solution acts like a glue holding the layers together. Held against the light this is really a beautiful addition to any plate and requires relatively little time and effort.
Topping off this dish is a succulent ham broth filled with delicate cantaloupe caviar made via basic spherification. The tiny caviar, bursting with fresh juice and mixing with the slightly salty ham broth is really a surprising and refreshing addition to the plate and look almost like a sparkling wine.
I paired this dish with a 2007 Heimann Loewenstein Riesling from the Mosel valley. The slight perception of sweetness played well with the sweetness in the melon while the high acidity cut through the fat in the pork.
Course 2: Variations on Egg Yolks
This course is extremely rich and extremely satisfying and takes the egg yolk to places it has never seen. Beginning salty/sour then moving to savory amd finally to sweet, this trio takes your mouth on an expansive journey.
On the left you'll see egg yolk sponge topped with crème fraiche and local US caviar. These little guys are made from egg yolks cooked in a ramekin in a bain marie in a pressure cooker. The yolks take on an amazing consistency resembling a sponge cake. The slightly bitter taste is offset by the saltiness of the caviar and the creaminess of the crème fraiche.
In the center of the picture is an egg yolk that was cooked sous vide at 148 degrees and then deep fried for 30 seconds and served with a luscious gruyere sauce. This dish has tons of umami and is very satisfying. The sous vide technique results in a perfectly cooked egg yolk and the frying gives a fantastic crunch.
Finally on the right is a parmesan infused crème brulee.
With all these different flavors and textures I chose to highlight the silky richness of the egg yolk with a 2006 Oliver Le Flaive Puligny Montrachet Villages. Its subtle creaminess matched well with the egg yolk while the acidity cut through the richness of the preparation.
After all that richness a lighter dish was in order. I cooked Swordfish filets sous vide at 125 degrees giving it a moist yet firm texture. A light char from the blowtorch gave it that just grilled appearance and taste from the resulting maillard reaction.
How to Scream Summer with a Side Dish
Topping it off was a salsa that screamed summer on a plate. Made from fresh raspberries, mango, cilantro, red pepper, and red onion this sauce added a lot of pizazz to the swordfish and could go well with many types of fish or chicken. Sitting next to the fish are mango spheres made using the basic spherification technique. Another pop of freshness which when taken with a bight of grilled swordfish has a nice contrast of sweet and savory.
This dish was paired with a 2009 Messmer Spatburgunder from the Pfalz region of Germany. For those of you who choose to look it up, yes it is a liter bottle and yes it is a good wine!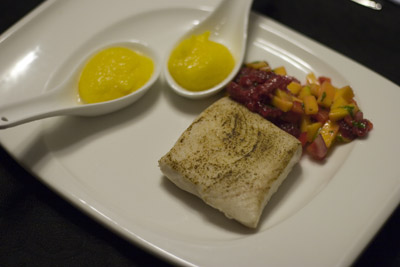 Course 4: Filet Mignon and Arugula Gelatin with Tomatoes
As the night wears on my ambition is waning and I begin to stick to the staples I'm sure people will love. And with a filet mignon cooked sous vide at 135 how could you go wrong? Top it with a Madeira sauce that reduces two cups of Madeira plus three cups of stock down to a few tablespoons of heavenly goodness and your guests will drool with delight.
A Block of Arugula
The vegetable accompaniment is a gelatin made of pureed arugula and agar cut into small squares and topped with a simple mixture of tomatoes, olive oil, and balsamic vinegar.  The simple arugula block lends sophistication to the dish and turns a simple salad into something interesting and unique.
The power of the sauce and meat needed a bold wine so I chose a 2009 L. Preston Red blend from Preston Vineyards in the Dry Creek Valley, California. The Syrah Grenache blend held up nicely to the intensity of the Madeira sauce while the meat softened the tannins.
This very rich dessert can be made up to three days ahead of time leaving you free to focus on the more difficult pieces above. The base is made with caramelized white chocolate and goat cheese along with the typical cream cheese and sugar. It's crustless leaving you to savor only smooth rich creamy goodness.
The frozen chocolate fudge tastes like a gourmet fudgesicle and can be made light or dense by either using a whipping syphon or not. This dessert was paired with an interesting wine from Southeast Ohio; a 2010 La Vigna Petit Manseng dessert wine. Petit Mensang is a white grape normally found in the Juracon region of France and produces fragrant dessert wines with crisp acidity cutting through this rich dessert.